Babies and Toddlers can be hard to buy for because usually parents already have everything they need and then some. Especially when it comes to clothes. So instead of going to Target and getting some ugly little Christmas onesies, get them something they'll really appreciate like some awesome pajamas from 37°.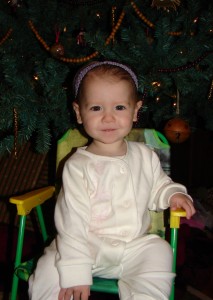 37° are baby clothes, based on temperature regulation to help combat everyday fluctuations in ambient temperature and weather. These are the first and only product using smart textiles for the benefit of the child. This brilliant clothing line was created by mothers and designed to be both functional and stylish.
I don't know what I would do without them. In regular onesies and pajamas, my daughter used to sweat all over, but her hands would still be cold. In the winter, we turn our heat down and night and she doesn't like to be covered with a blanket, so I usually double layer her and have her wear socks to bed and everything. But she would sweat profusely and yet her cheeks and hands would be cold all night.
37° is a brilliant solution to a common problem. Now, my daughter only wears their onesies and pajamas to bed and there is no more sweating. She is toasty all night long, with no sweating and no cold hands. Her whole body is warm to the touch and she sleeps comfortably all night long.
If you have problems with your child sleeping restlessly or waking during the night, it could be because they are uncomfortable – either too hot or too cold. This is especially a problem with synthetic, footed, zip-up sleepers.
Not only is 37° baby clothes warm, they are uber soft and comfy too. The creative designs and adorable styles will have you wanting to buy more.
I have found, for me, the styles run a little big, so if your child usually wears sz 6-12 months, expect the pieces to be a little large on her, unless she's chubby! My daughter is slim and very tall for the average 16 month old, so I have sz 6-9 months pajamas for her that fit beautifully!
The pajamas are approximately $30 USD.
I highly recommend 37° baby clothes, as I use it on my own daughter. It's the safest clothing you can put on your baby for bedtime or any time. Help make your baby comfortable this winter with temperature regulating baby clothes from 37°.
Also, be sure to keep 37° baby clothes in mind as a great gift idea this Christmas. It would also make a wonderful baby shower gift as well. Any mom would appreciate receiving this as a gift, especially once they see the clothes in action. They'll be happy because their kids will be happy!
www.37degrees.co.uk