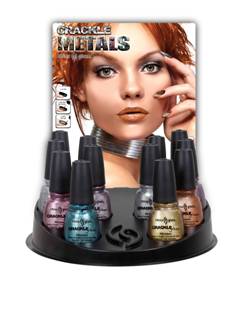 Get sizzling nails this summer with China Glaze's new Crackle Glaze Metals collection. The pioneer in crackle technology, China Glaze takes the beauty phenomenon to the next level with this second-generation polish that pairs the edgy innovation of crackle with the elegant beauty of metals for an amazing collection that is sure to set the trends for Fall.
The China Glaze Crackle Glaze Metals collection features six sparkling metallic colors including:
Tarnished Gold: Warm, honeyed hue
Platinum Pieces: Shimmering silver
Haute Metal: Pale pink
Cracked Medallion: Bold bronze
Latticed Lilac: Soft lavender
Oxidized Aqua: Deep aquamarine blue
You can create dramatically different looks with just one sweep of China Glaze Crackle Glaze Metals. Layer over different base colors to create a multitude of different styles. Use a lighter coat to create a fine crackle, a thicker coat for a deep shatter effect. The more you use it, the easier it gets. It's really an art form!
As versatile and edgy as China Glaze's biggest celebrity fans (Lady Gaga, Rihanna, Nicole Ritchie and Kelly Osbourne, to name a few), Glaze Crackle Glaze Metals is sure to be this Fall's hottest beauty trend!
I received Tarnished Gold, Cracked Medallion and Oxidized Aqua to review. I tried the gold over black and over dark purple. Both looked really amazing. I tried Cracked Medallion over a sparkly gold color as well as over orange. It didn't look too good over orange because the colors clashed a little, but it looked great over the gold. I tried the Aqua over an opaque teal color and that looked the best. So many variations to try, I just wish I had more nails to polish!!!
My nieces, both teenagers, LOVE crackle nail polish. They like China Glaze best and they are always asking me for more nail polish to try whenever I see them. I know they will love this new Crackle Glaze Metals collection as much as I do!
Click here to purchase the collection on SallyBeauty.com
(Select the color you want from the drop down menu on the right)
China Glaze is free of DBP, toluene, and added formaldehyde. China Glaze nail lacquers are available through salons and professional beauty supply stores nationwide. For more information, visit: www.chinaglaze.com
* The product for this review was provided to us free of charge for the purpose of product testing. This does not effect our opinion of the products in any way. We only write about products we personally like and use, regardless of how they were acquired.