Wide leg jeans and pants will rule for Fall and Winter. Whether you want low rise or high waists, you want to look for the wide leg. This style will look good with any style top, but can also be work with the Menswear Trend.
Here's our top 5 picks for wide-leg Jeans:
CUffed Wide Leg Jeans
What: Sammie Wide-Leg Cuffed Jeans
I love this dark wash and the cute cuffed bottoms. These wide-leg jeans have pork-chop pockets. Girls with big hips, keep scrolling down because these aren't for you! For all others, these are the best choice for wide leg jeans and they are affordable!
Price: $50.00
Discounts: 15% off Labor Day Sale at dELiA*s! Use code HOLIDAY. End 9.3.08.
Where: dELiAs.cOm
---
Stretch Wide Leg Jeans
What: Volcom Fara Wide Leg Jeans
STRETCH wide-leg jean with front seams and slit pockets. 24″ leg opening. Cotton/Spandex. Light Blue Denim. Imported. 33″ INSEAM
Price: Was $68.50 Now $54.80
Discounts: Free shipping on Alloy orders over $25. Use code AHLAFF. Offer valid through 9.17.08.
Where: Alloy.com
---
Low Rise Wide Leg Jeans
What: Lowest Rise Wide-Leg Welt Pocket Jeans in Pattie Blue
Broaden your appeal in our wide-leg denim trousers. Slim through the hips and thigh, with welt pockets along the seams in front and back, these jeans have a slender silhouette that hints of the 70's, but won't fake the funk. – Our Lowest Rise sits on your hips Slim through hip and thigh 23″ leg opening Double rivet closure on waistband Extra wide hem Welt pockets front and back
Price: $35.00
Where: oldnavy.com
---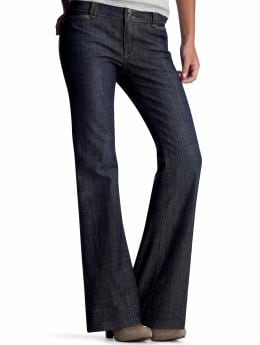 Curvy Wide Leg Jeans
What: Curvy wide leg jeans in dark wash
Who needs perfect genes when you've got fabulous jeans? This style combines a sexy, curvy fit with a flattering dark wash for a polished look. – Dark wash. High-quality premium stretch denim. Sits low on contoured waist. Curvy through the hip and thigh. Wide leg opening. Zip fly, double-button closure, squared front side pockets, back patch pockets.
Price: $70.00
Where: Gap.com
---
Plus Size Wide Leg Jeans
What:
Avenue Denim Lite Wide Leg Pintuck Jeans 28-32 Womens Plus Size
Pintuck detailing make these comfy wide leg jeans extra cute. Modern fit-designed to sit slightly below your natural waist. Double button and zip closure. Front slant pockets. Back welt pockets. Pintuck detailing on leg. Seamed cuff detail at hems. Plaid printed inner waistband lining. Stretch. Imported. Cotton/Polyester/Spandex. Machine wash. Average approx 31″ inseam Womens 28-32. Womens Plus Size Fashion Apparel Clothing for Women sizes 14 to 32.
Price: $45.00
Where: Avenue.com

---
Don't forget to pick up a package of Out Ease™ Struts™ to wear with your new pants! Don't even think about wearing slingbacks without Struts. They are the latest greatest fashion accessory available to use gals. And really, they are a life saver.
"What the heck is Out Ease Struts?" you ask. They are a super simple solution to a very common problem. Have you ever been walking along and suddenly realized your pant hem is stuck under your heels? Yeah… happens to be ALL THE TIME. And I end up balancing on one foot trying to yank my pants out of my shoes. Super stupid problem, right? But now, there is a solution.
Out Ease Struts are a little plastic strip that you put on the inside of your pant hem. Simply remove the adhesive backing and place the strip on the bottom back center of your pant hem. When you're ready to wash your pants, peel off the strips and throw them away. They only cost $12.95 for an envelope full of them.
I love them and they are virtually invisible to everyone else. They keep your pants down where they belong and you can go on wearing your awesome slingbacks along with your pants, and be worry free!
Get them here: www.out-ease.com
---
Stay tuned for more Fall 2008 and Winter 2009 trends…
Related Posts: