Because they're everywhere!
I went to Boston last week and I got a lot of fashion cues from seeing what the average city girls were wearing as they casually strut down the sidewalks… One thing I couldn't help but notice is that like 1 in every 4 or 5 gals were wearing Ugg boots or a similar style thereof. Unbelievable! And it's not even snowing…. So clearly the sumptuous sheepskin boots have committed fans that couldn't hardly wait to pull them out of their closet.
Celebrities love them too!
So why is it, that us pompous fashionista's turn our nose up at these warm booties? Their comfy, warm, somewhat affordable, and celebrities and Bostonian's are wearing them. I mean, what are we waiting for? Do we really need to see Anna Wintour wearing a pair before we'll buy them?
I think it's time to consider these fur-lined beauties as a winter 2008-2009 essential.
Here's a few shearling boots from $20 all the way up to the $160 official Uggs…
Go Jane Faux Shearling Boot
What: Go Jane Faux Shearling Boot
Calf-high suede finish boot with faux wool inside. These are about as cheap as you can get. I mean, you might be able to find them cheaper than $20 in Wal Mart around April, but then you have to save them for next winter and you need a pair now!
Price: $20
Where: gojane.com
---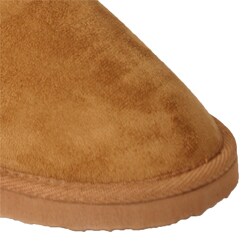 Adi Designs Microsuede Boots
What: Adi Designs Microsuede Mid-calf Boots
Be up-to-date with these comfortable Glaze by Adi Microsuede mid-calf boots. Keep your toes warm in style with these fashionable boots. Durable boots are the perfect accent for almost any outfit. Comes in black, brown, tan and pink.
Price: $30
Where: overstock.com
---
Airwalk Regan Totally Faux Boot
What: Airwalk Regan Boot
This comfortably roomy Airwalk boot features a faux suede upper with decorative seams and a cushiony faux shearling lining. Padded insole for comfort.
Price: $40
Where: payless.com
---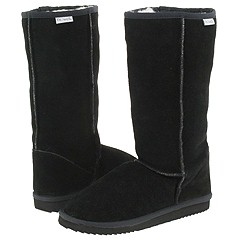 Fitzwell Yulisa Tall Suede Boot
What: Fitzwell Yulisa Tall Suede Boot (Black)
Fitzwell successfully applies comfort and value – its trademark qualities, to this winter wardrobe staple. Genuine soft suede leather upper and shaft. 12 tall shaft. 100% pure wool lining. Wool footbed: uses 100% Australian Merino Wool. The miracle of the wool fiber is in its natural tendency to sustain breathability and moisture wicking properties during hot and cold weather. This wool is 65% more absorbent than cotton, allowing Fitzwell sheepskin boots to stay cool in the summer and warm in the winter. Fitzwell embroidered flag label. Lightweight and flexible EVA sole.
Price: $69
Where: zappos.com
---
dELiAs Crazy Maddie Boot
What: dELiAs Maddie Boot
This boot is for those of you that need a little spice in your life! Faux suede upper and fur lining; man-made bottom. By Punkrose. Grey-multi, pink-multi, purple-multi, and sown in multi. WOW!
Need I say more? I mean, yeah, these probably won't go with anything in your wardrobe and they're totally unpractical, but they would be fun to wear! Just tuck your skinny jeans in to them, throw on a neutral colored coat, a fun scarf, and you're set to go make a BIG statement!
Price: $69
Where: dELiAs.com
---
Old Friend Tall Sheepskin Boot
What: Old Friend Womens Tall Sheepskin Boot (Black)
Get the look everyone loves with this fashionable tall boot from Old Friend. Plush sheepskin upper and sock lining provide softness and warmth against the foot. Lightweight EVA midsole offers added cushioning for extended wear. Traction-patterned TPR outsole supplies long-lasting wear for indoor/outdoor use.
Price: $100
Where: zappos.com
---
Ugg Classic Tall Boots
What: Ugg Classic Tall Black Boots
These are the boots that started it all!!! The 'Classic Tall' runs large and is available in whole sizes. Please order one size down from your normal size. If a half size, please order only 1/2 size down. ; These are the authentic boots surfers have been wearing for years. Classic outsole made of EVA is light and flexible. Highest-quality genuine sheepskin from Australia. 100% premium wool fleece wicks moisture away keeping feet dry and comfortable in warm or cold climates. Genuine fleece sock liner means ultra snuggly comfort and warmth. Easy on-off fit. Taller height is cozy and comfortable against bare legs. Designed to be worn barefoot to maximize the benefits of sheepskin.
Price: $150 and up
Where: Uggs are available from several reputable websites. comfortshoeshop.com ($150)
, thewalkingcompany.com ($160)
, shopbop.com ($160)
, zappos.com ($164)
---