---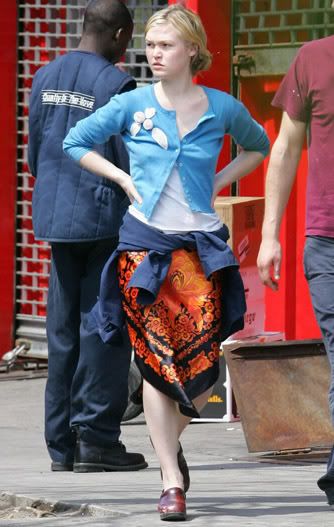 ---
Even though stars have tons more money than I will ever have, I still don't think I would ever wear this no matter how much money I had.
---
First: The jacket tied around the waist is not fashionable. I know that sometimes us ladies get warm, but unless you are wearing gym clothes, you should try to avoid this. And I don't see how that jacket would have done that outfit any justice while it was on her shoulders.
---
Second: The mix of the fresh cardigan with great detail and a dark gypsy looking handkerchief scarf skirt. They both look like they could be good pieces if paired with different items. The cardigan would look great with a cute pair of capris or even just jeans. The skirt would look great with a black blouse or an orangish amber colored tank.
---
Third: The shoes. Again, they don't do anything for this outfit on any level. They are clogs that look extremely uncomfortable and don't look like they are at all fashionable.