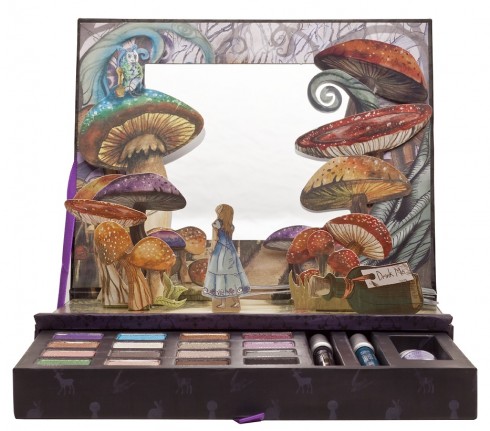 When Disney called to ask if Urban Decay would design a a product for the launch of Tim Burton's Alice in Wonderland, they were like, "Um…yes!" The result is this truly amazing (and seriously collectible) Book of Shadows. Tucked inside a hidden drawer are 16 best-selling eye shadows, given topsy-turvy names like White Rabbit, Jabberwocky, and Oraculum. Alongside them lie travel sizes of Eyeshadow Primer Potion and two 24/7 Eye Pencils. From smoky neutral eyes to flashes of hallucinogenic green and purple, the looks you can create are as endless as the rabbit hole itself.
The top opens to reveal a pop-up scene of Alice in the mushroom forest. Her "drink me" bottle discarded, she staggers past towering mushrooms, only to cross paths with a very peculiar, hookah-smoking caterpillar. A large mirror rests behind the scene, making you feel as if you are transported into the film itself. Anyone who loves Urban Decay, Tim Burton, Disney, or Alice in Wonderland absolutely MUST have this palette. Even the Mad Hatter would say this Book of Shadows delivers it all.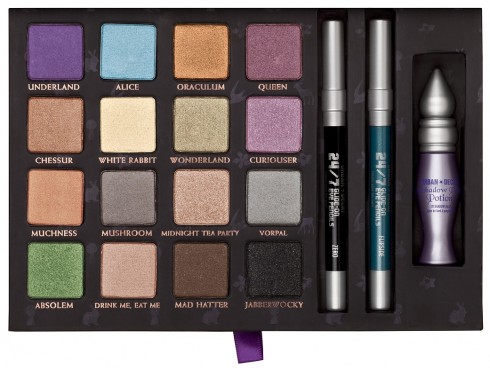 Visit Sephora for a full listing of shades and to snatch up your own Book of Shadows. They're selling out FAST so make sure to order quick… or off with your head!
Purchase Urban Decay Alice In Wonderland Palette on Sephora.com