For those of you that have long legs, you can get excited about this trend! We learned back in January that dresses were going to be a hot item for Spring and Summer 2008, and that includes Floral Dresses and Sheer, Silk, and Chiffon Dresses. Now, we are seeing a lot of celebs wear long, flowy, effortless dresses. Such dresses are slimming, comfortable and really sexy. And don't worry, if you're short like me, just add a pair of wedges or platforms! Everyone is hoping in board with this trend.
I bought a long, brown, silk dress by J.Crew on eBay a few weeks ago for $9.99 + S&H. It's really nice and I got such a deal on it!
Here are a few of our favorite long dresses for Summer:
Long babydoll halter Bra Top dress
What: Long babydoll halter Bra Top dress
The essence of simply sexy style. Built-in shelf bra for support with no show-through. O-ring detail and ruching detail under bust. Empire waist. Fit-and-flare shape.
Price: Orig. $59 Sale $49
Where: VictoriasSecret.com
---
Dip Dye Maxi Dress
What: Dip Dye Maxi Dress
This dress looks a lot like the Alexander McQueen dress that Sarah Jessica Parker wears on her Mexican vacation in the new Sex And The City movie. Very pretty! Long dip dye maxi dress with bust-out padded bodice and twist straps. Length of dress from underarm: 49″.
Price: $55.00
Where: GoJane.com
---
Jaclyn Dress
What: Jaclyn Dress

Floral maxi dress with scalloped trim detail at neckline and named after my best friend! Not really, but I thought it was cool because you don't see the name spelled like that very often… This dress is cotton and 52 1/2″ long. Catalog and web exclusive.
Free shipping on orders $25 or more! Use code DWFAFF. Offer valid through 6.11.08.
Price: $50.00
Where: dELiAs.com
---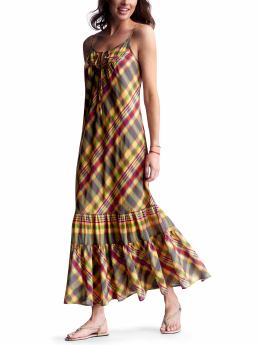 Madras Patio Dress
What: Women's Madras patio dress in original madras print.
We are definitely not on the madras train, but this dress is actually kinda cute. It's slim and feminine, yet relaxed and comfy. Beach and brunch, but dinner and a movie, too. In your closet, in your suitcase, and on your must-have list. – Gauzy stretch cotton/polyester blend, lined. Adjustable spaghetti straps, front scoopneck ties into a keyhole. Shirred yoke at front and racerback. Tiered bottom, hits at ankle.
Price: $78.00
Where: Gap.com
---
Reader Recommended:
Wheatfield Dress By XCVI
What: Wheatfield Dress By XCVI
Recommended By: Manda
"hey, i looooooooove the long dress trend! (i am not such a huge fan of my legs.) :/ anyway, i thought this one was great!
it's urban-looking, simple, and lightweight. GREAT for summer. just thought i'd share my new purchase!"
Price: $98.00
Where: ArtfulWears.com
---
ELLE™ Floral Maxi Dress
What: ELLE™ Floral Maxi Dress
Recommended By: Cindi
"I just bought this one at Kohl's!"
Price: sale $34.99
Where: Kohls.com
---
Gypsy05 Ombre Dress
What: Ombre Dress
Recommended By: Jasmine
"Wow, my boy freind just got me the ombre dress in charcoal. This has to be one of the softest dresses i have ever worn. I love it so much i might have to be extra nice and see if i can get a few more in other colors. The best part is that people have been stopping me in the street to as where i got it from and where they can find it. Gypsy05 rules and rocks, they have found a repeat customer in me. Girls something are good so you want to guard them and somethings are so good you just want to tell the world. World GYPSY05!!"
Price: $119.00
Where: Gypsy05.com
---