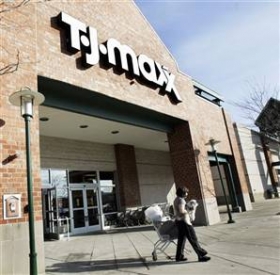 Recently, I was lucky enough to attend a wonderful blogger event, hosted by TJX- the parent company of both TJ Maxx and Marshalls. I've always loved both stores, but the event gave me some really great behind the scenes info about how the stores are run, and what their executives are doing to make the shopping experience even more enjoyable for us!
Today, I'm going to be talking exclusively about TJ Maxx but will post more about Marshalls next week (with a great giveaway)!
TJ Maxx has always been a favorite store of mine; my mom and I have shopped there together as long as I can remember. Because the store features perfectly priced merchandise that ranges from socks to pasta, handbags to electric razors, dresses to dish towels- there really is something for everyone! I've seriously spent hours venturing up and down the aisles, finding bargains priced treasure galore!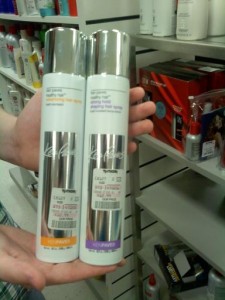 For those of you who've never been to TJ Maxx, you're probably a little confused about what I'm talking about. A common misconception is that the store is stocked only with second hand merchandise- off season, out of style, or irregular/damaged items. NOT TRUE! Here are some facts about the store and its policies (most of these are true of Marshalls, too!):
~Over 95% off the merch in TJ Maxx is first quality (so not damaged or defective).
~The items stocked are actually bought all over the world (i.e. handbags from Italy, soap from France, etc.)–they have vendors in over 60 countries).
~Each store receives new items weekly, and depending on the size, this can mean more than 10,000 new items!
~There are no sales or coupons, but because merchandise turnover happens so fast, there are plenty of clearance items!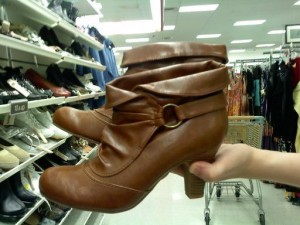 What I found most fascinating is the buying and stocking process… Not just because I totally covet the job, but because it directly affects the buying experience! Basically, TJ Maxx doesn't buy items for the stores in advance (like outwear for November in Spring)–merchandise is bought just a few weeks before it actually goes on shelves. Because of that, the stores can stay completely up to date with trends, even as they change throughout a season. So, if purple suddenly becomes the "in color" mid-September, department stores may or may not be able to stock a range of purple items- but TJ Maxx can go out, scoop 'em up, and fill their shelves!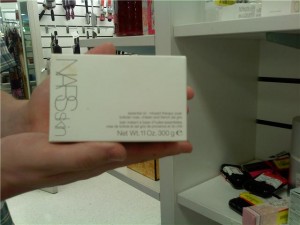 Due to the fact that the buyers pick up merchandise so close to the time it goes on shelves, they also have a really great opportunity to nab merchandise from canceled orders! For example, if Macy's cancels an order of high-end dresses, TJ Maxx can go in and buy the now surplus-frocks from the vendor at a much cheaper prices, since the vendor would rather make SOMETHING off the items. That's part of how the savings are passed onto us!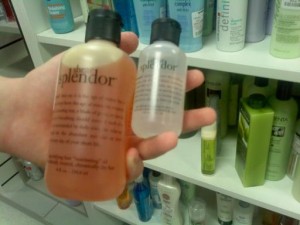 One last thing I thought was really interesting- many vendors are selling the exact same merchandise to TJ Maxx that they're selling to high-end department stores at the same time. Even though I've been a TJ Maxx shopper for years, I didn't realize this… I probably would have noticed if I had enough money to shop department stores, but that hasn't been the case for a while! Anyhow, the reason that consumers don't know that TJ Maxx has the same merch (without actually going into the store) is because the vendors request NOT to have their brands advertised by name, in order to keep their higher-end clients from getting miffed.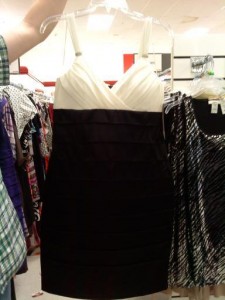 So, what have we learned? TJ Maxx has the SAME merchandise at the SAME time for a LOWER price! Or, in their words… "The right merchandise, in the right place, at the right time, for the right price."
Now, while TJ Maxx and Marshalls have the same parent company and do have similar merchandise (in TYPE), they do not stock the SAME merchandise. Here are some features that set Maxx apart from Marshalls:
Women's footwear (they don't stock men's or children's)
Beauty department (my fave!)
More plus-size items
Jewelry department
"The Runway," a specific area of the store that carries only super high end merch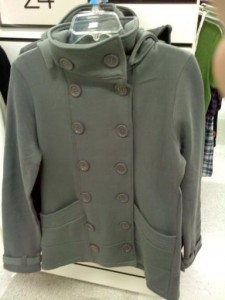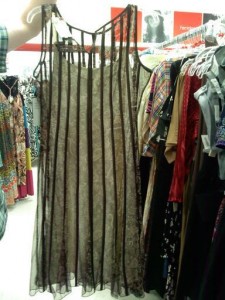 The pictures throughout this post are from a recent trip I made to TJ Maxx. Of course, like an idiot, I forgot to write down the prices… BUT, nothing was more than $50! Here's some info on the pics, in order the appear: 2 bottles of Ken Paves hair spray (Jessica Simpson's stylist!), awesome boots, NARS skin care (marked down to $5! WHERE else can you get NARS for $5???), Philosophy hair care, a couple of great dresses and an awesome coat. I do remember the coat was $24.99 and the material felt divine! Here are a few more: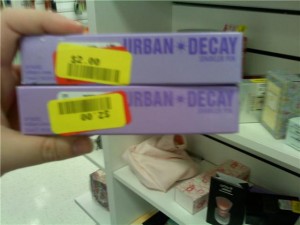 Brand new Urban Decay lip gloss? $2.00? Hell yes!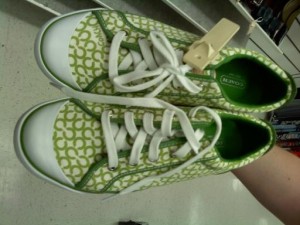 Ummm, helloooooooo Coach sneakers!
These pictures are perfect to describe why I love TJ Maxx- the store is an amazing blend of everything I love! There were some fab bags and pieces of jewelry, too- but the sales women seemed to think I was casing the place and I didn't really feel like explaining why I was taking pics… But what other single store can you walk into and find Coach sneakers, Urban Decay lip gloss, Betsey Johnson handbags, Philosophy hair care– and still have only gone through an aisle or two?
– The Fashionable Gal
---
GIVEAWAY The fantastic people at TJX and Rocket XL are offering readers of The Fashionable Gal a $25 Gift Card to use on your own TJ Maxx shopping adventure! What fun! Giveaway ends 8/23 at midnight EST; open to US residents only!