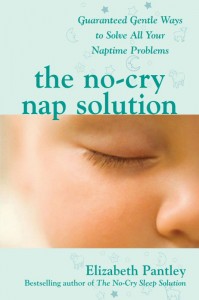 The Fashionable Bambino has teamed up with famed author Elizabeth Pantley to giveaway a copy of her new book, The No-Cry Nap Solution: Guaranteed Gentle Ways to Solve All Your Naptime Problems
!!
Naps are important to a child's mood, well-being, and development. The No-Cry Nap Solution offers you a proven formula to allow your baby, toddler, or preschooler to get daily restorative rest. You'll learn gentle, loving, tear-free techniques, developed by world-renowned parenting expert Elizabeth Pantley and tested by hundreds of families around the world, guaranteed to help you:
* Convince any child to nap every day
* Effortlessly settle your child for naptime in his or her own bed
* Turn short, fitful naps into long, peaceful ones
* Establish a nap schedule that works for you and your child
* Easily adapt nap routines to your child's developing needs
* Confidently deal with sudden changes, nap strikes, and travel
One lucky reader of The Fashionable Bambino will receive an AUTOGRAPHED copy of The No-Cry Nap Solution
Contest runs from August 17th till August 30th, 2009. Last chance to enter is August 30th at 11:59pm ET.