I vote this girl most likely to Succeed!
I admit I am not a fan of her career choices or Internet Photography collection, but the girl can dress! Award show after award show, junket after junket she looks sizzling! Though i love her style, Please do not mistake my appreciation for fine fashion as fanatical adoration (I graduated high school 5 years ago, and it was not musical!). I am merely an admirer of her flawless style. This young lady merely exhibits what every woman should have when she wears an outfit; comfort in her clothes. Comfort translates into confidence better than any faux attitude!
Exhibit A- Sweet Street style
This look is an example of Vanessa's "Three C policy" on clothes. The C's are as follows: Comfy, Classy, and Chic. You'll never see this girl in a banded leather dress or super-high heels that she can barely walk in. Vanessa balances designer with low key to achieve the perfect comfy street style we are always seeing on her in candid photos.
Exhibit B- Date Night Glamour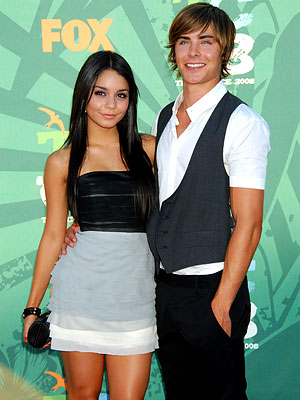 Here Vanessa in what may have been her best look of the year 2008 at the Teen Choice Awards poses with boyfriend Zac Efron.
Personally, the whole point of loving fashion is experimentation, and this girl has evolved into such a stylista! She knows what works for her body, and what colors suit her skin. I think we could all take a page from this girls book. My only question is that with such a strong portfolio last year how will Vanessa stay on top in '09? Some say she'll be a one hit wonder, but only time will tell. I'll be keeping my eye on this one!