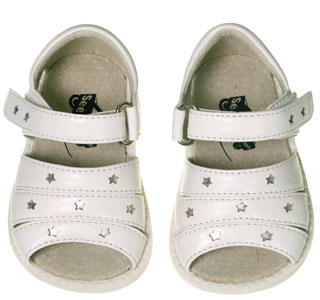 What: See Kai Run Shoes – Indria
Why: Want shoes that are healthy for your baby's foot? Then look no further than See Kai Run!
See Kai Run and Smaller promote healthy development of babies' and children's feet with their ultra-flexible soles, soft leather and wide toe box. Our footwear meets the American Podiatric Medical Association's rigorous standards for foot health and functionality and has been awarded the APMA's prestigious Seal of Acceptance. [more…]
Our little bambino is wearing the cute Indria style shoe. Silver stars splash across these white open-toed sandals creating a look that is breezy and casual, but with a sparkle dressy enough for special occasions. She'll want to wear these versatile sandals everywhere! They are just so cute and super high quality! I definitely recommend these shoes to ALL moms!
Price: $34.00
Where: SeeKaiRun.com or Zappos.com


Check out our reviews of "See Kai Run Baby Shoes" on The Fashionable Bambino