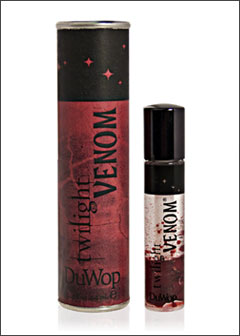 "With a customizable ruby stain that captures the blood red lips sported by fashionable vampires, Twilight Venom can let you play the part!"
Okay, so I totally haven't hopped on the Twilight train… I haven't read the books OR seen the movie. However, DuWop Twilight Lip Venom
is something we can all be a fan of! Here's some info about the product:
"Twilight Venom can be applied repeatedly until desired intensity of color has been reached and lips are plumped and revitalized. Its formula argan, avocado, and olive oils, as well as Vitamin E."
You can purchase DuWop Twilight Venom
from Sephora or Nordstrom.com
for $16.00!