Congrats to Kammi for winning the Mama Mio Giveaway!
Comment #27 chosen by Random.org
Thank you to everyone who entered and a huge thanks to the fabulous people at Mama Mio who sponsored this giveaway!
---
This is the mother of all pregnancy skin care kits and we want all our gorgeous readers who are moms-to-be to experience the indulgence that is Mama Mio.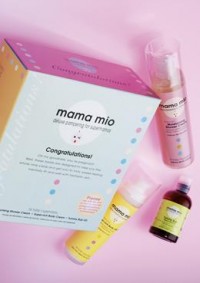 We're giving away ONE Mama Mio Congratulations! Kit
to a lucky mom-to-be (or someone who knows a mom-to-be!)
Going from having a flat tummy to pampering a baby bump can be hard on you emotionally and of course, physically. These three fabulous products make the 40 week journey a lot more pleasant.
The kit contains:
Tummy Rub Oil for award-winning stretch mark prevention 106ml/3.6 fl.oz
OMega Super-rich Body Cream a gorgeously fragrant moisturizer 200ml/6.8 fl.oz
OMega Shower Cream to cleanse and hydrate your skin. 300ml/10 fl.oz
I've been using all the products in the kit since the beginning of my second trimester and now I'm 37 weeks pregnant and counting down the days to my due date with nary a new stretch mark in sight!
Immediately after showering, I apply the Tummy Rub Stretch Mark Oil
on my belly. I also use it every single night before I go to bed and sometimes again in the morning. So far, I haven't gotten a single stretch mark on my belly! (And my belly is HUGE!)
The Mama Mio OMega Super-rich Body Cream
is fabulous for all the other areas that get stretched out while you're pregnant like the hips, thighs, butt and breasts. The scent is sensational and it's rich and creamy without being heavy or greasy. This is one body cream you'll get addicted to and want to keep using long after you pop the baby out. I can't imagine living without this one… Seriously.
I also love the OMega Moisturizing Shower Cream
. It's ideal for pregnancy because it was carefully created to maintain the moisture balance in your skin, unlike everyday products, which will strip away all of your moisturizing efforts. It is oh-so-gentle and smells heavenly. It has a low-lather formula using an extremely gentle cleanser (created for babies!) and is PH balanced making it perfect for even the most sensitive skin. And it's SLS free! Gotta love that!
This is absolutely a must-have kit for ALL pregnant woman. If you are pregnant, do yourself a favor and get this ASAP. And if you know someone who is expecting, treat them to this amazing kit and they will surely appreciate it!
Now are you dying to try out these products for yourself? Enter to win!
---
TO ENTER:
Extra Optional Entries: (Leave 1 comment for each extra entry.)
(Note: You must leave 1 comment per entry. Extra entries will not be counted unless you leave a comment for each one.)
Details
Contest runs from August 2nd till August 15th, 2010. Last chance to enter is 8/15/2010 at 11:59pm ET. Winner will be chosen with random.org and notified by email on or before August 30th and asked for full name, address and phone number (for shipping purposes). If no response is given within 48 hours, a different winner will be chosen, so please be sure to check your email. Must be 18 or older to enter. Contest open to USA and Canada!
Prize will be provided and shipped directly by Mama Mio.
---
* The featured product for this post was provided to me, at no cost, by the manufacturer or representing PR agency for the sole purpose of product testing and review. Opinions expressed are my own and are not influenced by monetary compensation.