We recently received a reader email that asked, "Can I wear white after Labor Day?"
Simple answer. Yes you can!
Never say no to white unless you are at a wedding… That's the only real time that a white outfit is a no-no! Don't be afraid to wear white after Labor Day.
As an example, we've paired this lovely white, linen blazer from XOXO with matching white linen shorts. An excellent cool summer day outfit… But you can easily change this up and wear it right into Fall!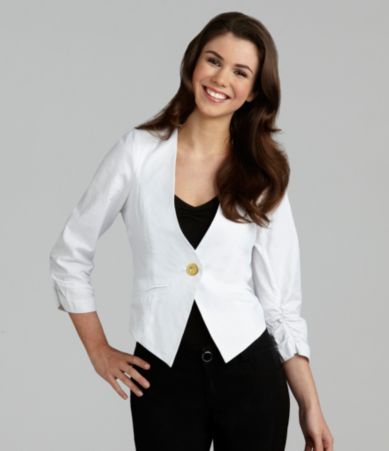 XOXO Linen Jacket – On Sale for $20.60
XOXO Linen Belted Shorts – On Sale for $25.20
Pair this cool blazer with a purple or rust colored shirt underneath along with opaque tights under the shorts for a cool Fall ensemble.
Here are some Fall Shoes/Boots we recommend trying with such an outfit…
How would YOU style a white linen blazer and white shorts?