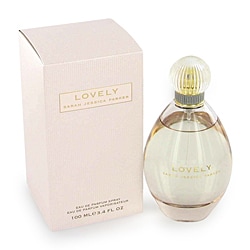 If you're looking for a new scent that's light and lovely, we found exactly what you're looking for…
Lovely by Sarah Jessica Parker
A dose of femininity and a touch of chic – by Sarah Jessica Parker
is the perfect scent for a night at home or out on the town. A subtle scent, Lovely is a fragrance with social skills! Whiffs of luch lavendar, exotic pathouli and sultry musks linger to bring your a little closer this Valentine's day.
It's the perfect fragrance for women of any age because it's subtle and feminine. Guys, this would make a great gift!! (hint hint!) I put int on after my shower this morning, and my husband thought it was really nice. He likes light floral perfumes and this one fits the bill exactly.
You can get a 1.7 ounce bottle on Overstock.com for only $32.45
plus $2.95 shipping and handling, no matter how much you buy! Or you can get it on Sephora.com for $32.50
Compare that to buying it on Beauty.com for $52.00
or Dillards.com for $52.00
.