Booties are another popular shoe trend we'll be seeing a lot of. Just visit sites like Piperlime
and zappos.com
and you'll see a large variety of cute little booties. Anything from leather, suede, patent leather, fur and more. Wedge heels, stiletto heels, flats, and platforms. You'll also find an abundance of styles that incorporate the other trends like studs, ruffles, buckles, fringe and more.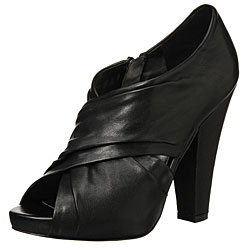 Two additional styles you'll see on booties, that you won't find anywhere else is cutout booties
and peep-toe booties
.
I'm sure your mother has told you that chopping off your legs at the ankle is unflattering, but please ignore her advice. Booties really became a big trend last year, and they promise to stick around for another season. The bootie has really become a bit of a Fall wardrobe staple at this point.
Booties can work for almost anyone. Be careful if you are very short or have stocky legs. Everyone else should definitely get a pair of booties this Fall. You can wear them with skirts, dresses, and even shorts with tights – a look that is very popular this season. Booties really rough up an ensemble like no other shoe can and they give your outfit the edge it needs. They are perfect to pair with leather leggings as well.
When choosing a new pair of booties, aim for something dramatic and unique. Pairing them with any neutral or basic outfit will completely transform your look into something special. This is one trend you must try, and with so many affordable booties this year, you can't afford not to.
There are so many cute booties available right now. Some cheap, some expensive, but all very chic. I had trouble only picking out a few pairs to show you, but here are some of my favorites…
Studs:
L to R: alice + olivia for Payless Robertson Jeweled Boot – $50
, BCBGeneration Dana2 – $93
, Alloy Studded Bootie – $47
Ruffles:
L to R: Dollhouse Kim – $70
, Steve Madden Fieona – $150
, Steve Madden Markee – $99
Buckles:
L to R: Not Rated Saba Island – $70
, Belted Peep-toe Booties – $40
, Indigo by Clarks Chimera – $99
Cutouts:

L to R: ALL BLACK Cutout Bootie – $90
, Report Deahne – $89
, DV by Dolce Vita Carter – $84
Peep-toes:
L to R: Steve Madden Sleakk – $109
, BCBGirls Cidro – $109
, BCBGeneration Rimy – $130
What do you think of the choices I picked above? Would you like to see less expensive choices or more comfort-friendly choices??