Not sure how this happened or why, but Elephants on fashion jewelry is a HUGE trend right now. Everywhere I go, I've been seeing Elephant jewelry and it's selling out fast online and in stores.
I found some really adorable pieces on Max & Chloe
and Overstock.com
. Click on individual pics for pricing…
I wondered if some celebrity wore an elephant necklace or something to start this trend, but I can't really find any information on how the trend started. It just sort of happened…
Apparently there is an ancient adage that says you are supposed to keep an elephant near your door to keep out bad luck and bring good luck to everyone who lives there. Not only is is a symbol of luck, elephant adorned jewelry is super cute!
Here are a few more adorable pieces I found…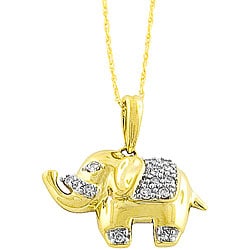 Some of those pieces are a little pricey so I went on a hunt to find affordable elephant necklaces. Not surprisingly, I found a couple choices at Forever21.com. Elephant Charm Necklace for $5.80, Fancy Elephant Necklace for $6.80, and Show Elephant Pendant for $6.80.
I have a really awesome elephant necklace that my mom got back in the 70's when she was a Hippie. It's silver and the elephant has a filigree pattern. Very cool. I'm so glad this is a hot trend, because it's one of my fav necklaces to accessorize with! The Fancy Elephant Necklace from Forever 21 looks a lot like my mom's elephant necklace. Only my mom's necklace is way cooler… ;-)
What do you think of the elephant trend? Will you be hopping on board with this one?
This post was nominated for an Appletiser Blog Award. Please click here and take a moment to vote and show your support for The Fashionable Housewife!!