Feel the love with boho-inspired pieces this Fall. Looking like a hippie is "in" this season… as long as you look like a rich hippie! Look for rich paisley prints in multicolor, jewel or earth tones. Embroidered details give your outfit a homespun look. Flowy dresses, embroidered tunics, paisley prints and maxi dresses worn with boots, also give the rich hippie feel. Be careful not to overdo it with too much at once though. For jewelry, try a pair of dangling chandelier earrings or simple gold hoops with your outfit or add a stack of thin bangle bracelets to your wrist. You might try to layer two or three thin necklaces, but again – choose one or two area to focus one, not all three at once, otherwise you run the risk of hippie overkill. Lucky Brand Jeans have a great selection of boho inspired clothing and their online sales aren't too shabby. Free People
is another great brand for bohemian inspired pieces.
Outfit Ideas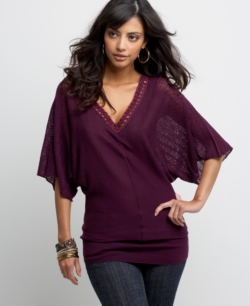 If you are wearing the hot trend of distressed jeans with boots, try pairing a simple rich brown suede hobo bag with your outfit and tie a paisley print scarf around your neck or around the shoulder strap of your bag. The key is to not overdo it so you don't look like you walked out of "Woodstock" or the Broadway production of "Hair".
Looking for stores to find accessories for your rich hippie look? Try H&M stores for scarves, earrings, and purses. For tunics, tops and maxi dresses, check out Urban Outfitters. Brands like XCVI
, Free People
and Edun
have great boho inspired pieces. For footwear, check out Zappos.com
for a huge variety of styles. Lucky enough to splurge? Then you can't go wrong with a simple pair of classic brown Frye Boots
. You can wear these with jeans, dresses, skirts and the workmanship / quality of them will certainly give you your money's worth.
Makeup Ideas
Play up your eyes with a smoky shadow and liner. Maybelline Expertwear Quads
tell you exactly where each shade goes. Use just a light flush of color on your cheeks (berry, rose, pink) and a nude lip color for your lips, or, better yet, one of those lip colors in "your shade of lips but better" colors. What that means is to find a shade of lipcolor that is one shade darker than your own natural lipcolor. A color that will enhance your lips. You don't want a strong lipcolor since you are playing up your eyes with this look.
Look to celebs like Nicole Richie and Lindsay Lohan for outfit inspirations. Both ladies seem to have the rich hippie look down pat. Also spotted wearing this trend: Kim Kardashian, Rachel Zoe, Demi Moore and Vanessa Hudgens to name a few.
The rich hippie look is a fun weekend look to experiment with for Fall 2009! Will you be trying this trend?