The trend of the moment is early 80's rocker style inspired by Joan Jett, the original rebel herself. Of course having a jet black shag haircut will definitely help with this style, but it's not required!
Want to recreate this look for yourself without a total makeover? Here's how you do it – pick your favorite pair of Skinny Jeans
either in a dark shade like black, charcoal or indigo. Add a thin black studded belt
with that. Next, try a metallic silver or gold tank to wear and add a Cropped Leather Jacket
over that – a lot of them have a motorcycle style / feel to them this season. Now, if you're thinking, who can afford a leather jacket this season, not to worry. There are plenty good looking faux leathers out there you can find at Macy's, H&M, Forever 21 and Mandee even unless you already own one from a past season.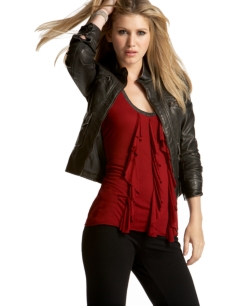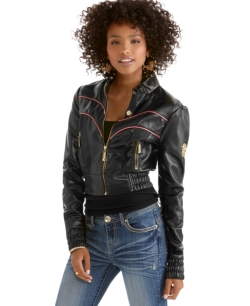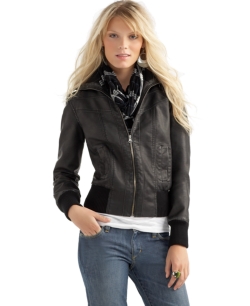 L to R: American Rag – $89
, Apple Bottoms – $98
, B Hip by Me – $70
Accessorize your outfit with a Resin Bangle
or leather wrap stud bracelet
. For footwear, you can experiment with either a pair of black heels or a black boots leaning more towards a pointy toe to get the rocker look.
L to R: Report Julian Heels – $95
, Harley Davidson Boots – $130
, Mia Sterling Boots – $99
For a dressed down look, try Converse sneakers. While many like leggings to recreate this look, personally I'd steer clear of them because you don't want to get too costumey or look like a goth hooker. Remember you're trying to achieve a variation on the look, not copy it head to toe or dress like someone from a metallica group!
Another easy, simple and inexpensive way to get this look is simply to wear head-to-black — a pair of black skinny jeans, black tee and pick one item to stand out like a pair of fabulous studded sandals like the Jeffrey Campbell Mel.
L to R: Black Tank Top – $38
, Black Skinny Jeans – $50
, Jeffrey Campbell Mels – $164

Twilight Star Kristen Stewart is currently filming a movie "Runaways" playing the role of Joan Jett, so we should be able to spot some more 80's style outfits on her pretty soon!
Will you be trying this trend?