Unlike past seasons where minimalist clothes demanded that one goes sans jewelry, this seasons looks are best highlighted with statement pieces. Timeless pieces that turn heads and go with simple clothes in black, or rich colors. Hey, you can even wear with spring and summer's lightweight dresses to add oomph to your look.
For starters, costume jewelry is back. With a vengeance. One can only go so far with precious gemstones. Even if you could afford statement jewelry items with giant diamonds or rubies, you would be a walking temptation to robbers, even in broad daylight. Who wants to get mugged?
Even the very wealthy with stashes of priceless jewelry would keep the real items in a safe and wear imitations of their jewels in public.
1. Trend #1 Stunning Necklaces
The best thing about these imitations is that they are very affordable. You could dress like a millionairess even if you are on a tight budget. Just accessorize your new gown or little black dress with an absolutely stunning necklace
Crystals are everywhere in the full spectrum of color. What better way to bring life to a structured dress with little detail than to accessorize it with brightly colored rocks. Especially dazzling stones around your neck.
2. Trend #2 Cuff Bracelets
Cuff bracelets are statement jewels that turn a simple sheathe into a stunning outfit. Your little black sleeveless dress or strapless gown looks even more amazing with the addition of a single cuff bracelet. They are timeless classics that are hot every season, which makes them excellent investments.
One statement accessory is enough. A small collection of statement jewelry is all you need to create your signature look. Wear one item at a time with your favourite dress. A change of accessories freshens your look instantly.
Now is the time to collect statement jewelry to create your signature look. Take advantage of this season's offerings to build up your jewelry wardrobe.
You'll find all the statement jewelry you need for the season at Twisted Silver.
Here's a few items we're obsessing over:
Medallion Necklace
What: Medallion Necklace from Twisted Silver
Stunning cable with European style, statement-sized design, this is the one piece that will pull the fall wardrobe together. Smart, sophisticated with sassy edge, wear the Medallion necklace to transform any look from artistic to casual to a dressy feel… effortlessly.
Price: $120
Discounts: Get it for 50% off! Enter promo code MEDALLION at checkout. Hurry, this offer ends September 9th!!
Where: twisted-silver.com
---
David Yurman Inspired Cuff
What: David Yurman Inspired Cable Design Cuff Bracelet
Cable design cuff bracelet inspired by jewelry designer David Yurman featuring Golden X's or "golden hugs" design. Get the latest high fashion designer style hot look at a fraction of retail! Add a Yurman inspired, high quality bracelet to your selection of fabulous jewelry at a dazzling "nab it" price.
Price: $30.00
Where: thedazzledames.com
---
What: Wibbli Necklace from Chico's

As seen on Access Hollywood! This intricate and eye-catching necklace comes in bright gold metal with epoxy inlay. Leather cord. Adjustable from 16″ to 20″. It's the perfect statement peice to wear with all your Fall fashions.
We're also loving the Chantini Necklace
and the Shaiah Necklace
. You just have to go and check out all the Beautiful Necklaces at Chico's
.
Price: $44.00
Discounts: $20 off Your Merchandise Purchase of $80 or more at Chicos.com. Enter Code 6299 at Checkout. Offer Valid 08/25/08 to 09/14/08. Valid Online Only. Not valid in stores.
Where: Chicos.com
---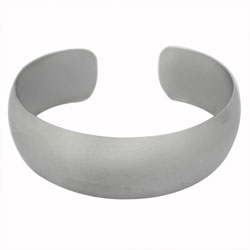 Hammered Bangle Cuff
What: Steel Wide Hammered Bangle Bracelet

Extra wide cuff style bangle bracelet offers a stunning look to your everyday wardrobe. Fashionable bracelet is crafted of stainless steel. Jewelry accessory features a polished finish.
Price: Was $37.99 Now $16.99
Where: Overstock.com
---
Article Source: EzineArticle.com