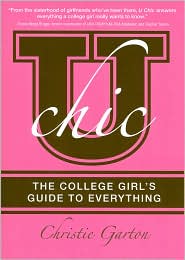 The Fashionable Gal is giving away 5 copies of the new book U Chic: The College Girl's Guide to Everything
by Christie Garton.
This is the funny, smart, and tough wisdom that college girls need to survive and thrive at school, straight from the only people who know – the women who have been there. It's not just about getting good grades, it's about having a great experience. U Chic covers everything young women will need to do both, as well other all-important topics like:

* College Bound: first week advice and tuning out the homesick blues
* Head of the Class: picking the right major, getting ready for finals, studying tips and tricks
* Love Life: love vs. hook-ups, long distance love
* Healthy and Happy: common campus ailments, staying fit on dorm food

The author, Christie Garton, runs a website called University Chic, which is a HUGE online networking community for college ladies! However, since it's often more comforting to actually have something to hold on to, she's compiled her wisdom into U-Chic, which can be carried around, marked up, and dog-eared at your leisure!