New Moms can be hard to shop for, so we've put together a list of awesome gifts they're sure to love!
SPA BABY
What: Spa Baby – The European Style Baby Tub
Designed from your baby's point of view, this bath allows your baby to sit in a natural upright position and keeps your baby warm and relaxed in the bath. Babies love this tub. Parents love it too because it is easy to use, comforting and secure for your baby.
Guarantee – your baby will not cry in this tub. If your baby doesn't love this tub, you can return it for a full refund.
It is so amazing! As a mother, I know how hard it can be to give a newborn a bath. It can be the most miserable time of the day. With the Spa Baby tub, it will quickly become your favorite time of the day because your baby will be so happy in this little tub!
Price: $45.00
Where: spababytubs.com
---
CLOTH DIAPERS
What: Kushies Reusable Diapers
You don't wear paper underwear. Why should your baby?
Want to give a new mom a gift she'll really appreciate? Enter Kushies Reusable Ultra Diapers
. Not only are they better for babies, but they are better for the environment. Give an eco-friendly gift this year!
Read our full review of Kushies on The Fashionable Bambino >>
Price: $38-40 (5 pack)
Where: walmart.com
or kushiesonline.com
Discounts: Use code FHHA08 to receive a 10% discount on any order from www.kushiesonline.com.
---
BATH TIME
What: Kuster Bath Toy Store in Cream and Mint
We have the Cream and Mint
one and everyone in the house loves it. My daughter empties it into the bathtub when it's filling up with bubbles and when she's all done with her bath, she lets us know by throwing her toy over the side of the tub, into the Kuster Bath Toy Store
bucket.
I love it because it houses all her bath toys in one safe place and lets them drain easily without a mess. It's just the perfect bath time accessory and everyone should have one! At only $25, it makes a perfect Christmas present!
Price: $25
Where: amazon.com
and kuster-usa.com
---
BABY BEDDING
What: Picci Italian Baby Bedding
Picci, a global leader in Italian baby bedding, debuts its 2009 Collection with 15 classic and contemporary bedding set designs including a new organic bedding collection.
You can purchase the items on www.goores.com. Use coupon code tfhpi code to receive a 10% discount off of any Picci order from www.goores.com.
With a retail price range of $300 up to $1,250 for their elegant silk bedding ensembles and styles that range from classic to contemporary, Picci offers a wide array of choices for individual consumer's taste and budget. Picci infant bedding can be found at specialty juvenile products stores nationwide as well as on www.goores.com.
Their bedding is really exquisite, all made in Florence, Italy. Would make a great gift for a new mom or a mom-to-be!
Where: www.goores.com and find Picci Bedding on Amazon.com
---
BABY CLOTHES
What: Organically Grown Baby Wear
Being a green baby now takes a bit less, well green. Organically Grown created a new line of high quality, affordable 100 percent organic baby clothing that ranges from $20-$38. They are so adorable, I want to wear them! The three piece sets help health conscious kids avoid conventionally-grown cotton which occupies three percent of the world's farmland, but uses 25 percent of the world's chemical pesticides!
Sets are made up of a gown, hat and blanket; a body suit, pants and a cap; and a long-sleeve lettuce edge jacket, pant and bodysuit. They would be a great gift for a new mom or a mom-to-be!
Price: $20-$38
Where: Macy's, Gottschalks, Dillard's, and Buy Buy Baby
---
HANDMADE TOYS
What: Handmade Joobles from Fair Indigo
Retailing for just $29 each, Joobles can be found online at www.fairindigo.com or at specialty e-tailers like Oompa.com. Visit Fair Indigo's website to see detailed images of each animal. The colorful characters range from turquoise to celery green.
Parents who have shopped for organic toys will appreciate the value of Joobles. Other pricier knit toys not only cost more, but are often made of acrylic yarn and not made under fair trade conditions. Joobles are not only 100% adorable but will improve our planet for the next generation by supporting small sustainable farming and fair trade. Isn't it amazing how the right toy can make a difference?
Price: $29
Where: fairindigo.com
---
HIGH CHAIR
What: Kuster K2 High Chair in Beech
The popular, retro design of K2 fits in any of today's kitchens combining a clean look with tons of functionality making it a great gift for any family this Christmas. The K2 can be folded compactly with one hand, so can stay at the table or be tucked away in between uses. The tray can be slid out for easy removal or insertion of baby, or can be simply removed altogether. The removable tray liner is machine washable, and handy storage net keeps mealtime necessities handy. It's designed to grow with your child, so it can be pushed right up to the table for toddler to join in the family meal, and is tested to 200 pounds! We love our Kuster K2 High Chair in Beech
and highly recommend it.
(Consider getting the Kuster K2 High Chair Cushion in Blue Circles
to go with it!)
Price: $175
Where: amazon.com
and kuster-usa.com
---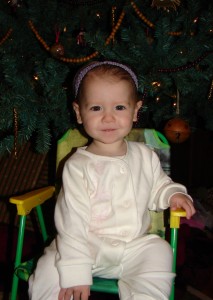 BABY CLOTHES
What: 37° Temperature Regulating Clothes
Babies and Toddlers can be hard to buy for because usually parents already have everything they need and then some. Especially when it comes to clothes. So instead of going to Target and getting some ugly little Christmas onesies, get them something they'll really appreciate like some awesome pajamas from 37°.
37° are baby clothes, based on temperature regulation to help combat everyday fluctuations in ambient temperature and weather. These are the first and only product using smart textiles for the benefit of the child. This brilliant clothing line was created by mothers and designed to be both functional and stylish.
Where: www.37degrees.co.uk
---