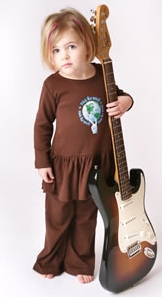 Do you have a little diva in your house that's a Fashionable Bambino in the making? Well we've got the cutest little fall outfit just for her!
The super cool kids clothing store "Slick Sugar" has adorable kids clothing for the up and coming fashionista in your house.
But don't worry, it's not just for chicks, there are cool duds for boys too.
Our favorite set in their fall collection is the ultra sweet Rock Our World Dress Set. This ruffle bottom dress with matching flare pants is a must have for all little diva's closets. Super soft and super comfy. Your little kido will think she's wearing her jammies, but she'll look like a stylish bambino!
We're also loving the Battle Of The Bands tee for boys and the adorable Peace Love and Rock Band Set for girls. How cute!
Check Out These And Other Cute Tess At
www.SlickSugar.com


Check out our reviews of other baby clothes on The Fashionable Bambino