I'm absolutely in love with my new J-41 "Temptation" booties
compliments of J-41.
This is my first experience with the brand and I have to say that I am really, really impressed.
First off, the shoes are really well made, comfortable and light-weight. I find them to be very easy to stand in, stable and had no problems after wearing them for several hours the very first time. They have a 31/2" heel but it does NOT feel that tall when you are wearing them. Perhaps it's the platform in the front that makes them so comfortable and easy to wear.
They are also very, very fashionable! Cute fold-down cuffs with cute cutouts and the lovely ruching in the front. I happen to adore the warm chestnut color, but they also come in a dark chocolaty brown and black.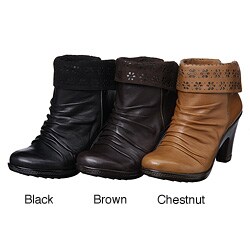 Leggings and super hot this season, especially ankle length legging with side zippers
. These ankle booties look excellent with leggings as well as with tights.
You can get them on Zappos.com
in brown, black or chestnut for $149.00.
Be sure to check out Overstock.com for the J-41 'Temptation' Ankle Boots
because they have a few limited sizes and colors available for only $54.99