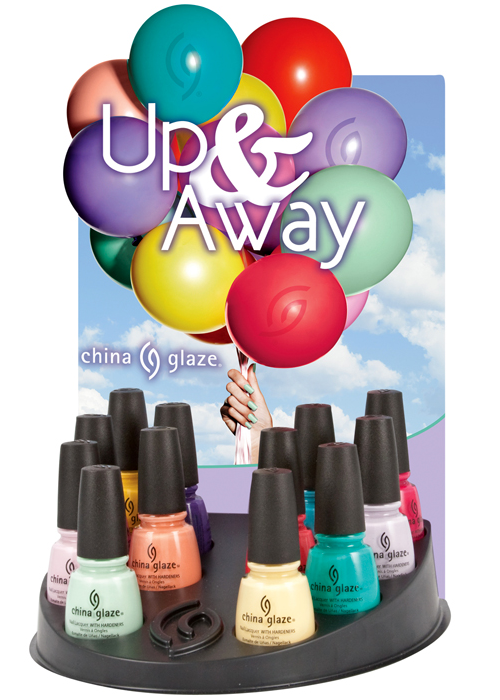 When I first saw China Glaze's Up & Away Spring Collection, I thought "Oh dear… not another nail polish collection," but after I got a closer look at the colors in this collection, I was absolutely thrilled. The pops of teal, the peeks of yellow, the soft greens and lavenders… All colors you might never think of wearing until you see how gorgeous they actually look on your nails.
I was even more excited when China Glaze sent me three bottles to check out and discuss with you lovely ladies. Before I show you my manicure, here's a breakdown of the fabulous color palette…
Flyin High
: A rich, teal tinged blue that will make you think of ocean and sky at the same time. Flyin' High has the depth of both; a color you can easily fall into.
Four Leaf Clover
: A glossy, rich, surprisingly bright green that will make you feel closer to Spring with each coat.
Happy Go Lucky
: A fabulous and perfect, sunny yellow. True to it's name, this polish will brighten your day and make you feel that much closer to Spring time!
Heli-Yum
: A delicious reddish-pink, described as "Raspberry." It looks delicious, like berries you'd find on a slice of decadent cheesecake. Try not to lick your manicure…
High Hopes
: This color has hints of coral, which is another huge color for the season. If you're nervous about going the orange route, High Hopes is a very gentle way to do so.
Lemon Fizz
: Another favorite, this yellow is a very soft shade. If Happy Go Lucky is the sun at full might, Lemon Fizz is the rays that break through the clouds first thing in the morning.
Light As Air
: A very soft lavender that works well with my pale skin tone. For a pastel, it's very bright and eye catching – it makes an equal statement to Grape Pop, but in a more subtle way.
Peachykeen
: I'm completely in lust with this rich shade that looks juicy enough to bite into. Your favorite fruits might not be in season yet, but Peachy Keen is a great way to get your fill in the meantime.
Re-fresh Mint
: A minty pastel green creme that makes you think of mint chocolate chip ice cream. It looks great alternated with Light as Air!
Something Sweet
: This shade makes me think of Twiggy. It's a bit of a 60's pink, but simultaneously an Easter egg hue with a touch of lavender. Definitely worth checking out.
Sugar High
: The warm rosy baby pink you've always wanted and never knew it! This color will look great with summer with a tan… It's the perfect everyday color for a clean manicure.
Grape Pop
: My favorite color in the whole collection and the first color I tried. It's a very true, royal purple that doesn't hint of a blue or red base the way many purples do.
Want to see more?
Purple is my favorite color, so of course it was the first color I had to try! Of course, with a 2 year old toddler running around the house all day, getting 5 minutes alone to myself in order to polish my nails is… well a luxury to say the least. After a week of staring at the gorgeous purple polish on my desk, I finally set aside five minutes to file and polish my nails with this luscious color and this was the result…
It took me several days to get the second coat on but the first coat held up quite well. Just one or two little chips. I haven't had a chance to throw a top coat on over this yet, but I now have three coats on and I love the deep, rich color. It's just gorgeous and perfect for my birthday. (TODAY!)
You can get China Glaze Grape Pop on Amazon.com for $3.99
.
What do you think of the colors in the collection? Want to see more swatches? Check out Temptalia!