This dress $14.99 at Urban Outfitters!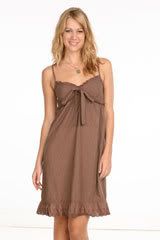 Now, I know that Urban Outfitters is a little priceyer (is that even a word?) than I would normally shop, but they are having a huge online sale right now, and I am eyeing this dress along with another pair of ballet flats.
I will admit it to you now, I am addicted to ballet flats. I caught the shopping bug today and spent more than I should have :( but I got some really good deals and wanted to pass on the info to all of you!