As you move into a home, you have to put into consideration some of the essentials things such as home insurance cover, home warranty to cover repairs, the neighborhood, and security among others.
Then there are basic needs that would make your living smooth. These cover things like kitchenware, furniture, and bedding. These are items that would make your home look neat, clean and organized.
You can add household items as you would wish to design your home. For now, let's dive into the top 6 products every household needs in 2020.  
1. A Cordless Vacuum
Vacuum cleaners come in handy for wall-to-wall cleaning of carpets and are therefore ideal for a residential home. They are available in all manners of fashions based on weight, size, availability of cord, each design being ideal for particular areas for cleaning. An important classification is that of corded and cordless, the main difference being their primary source of energy. Cordless vacuums are electricity-powered while non-corded ones are powered by a battery pack.
Additionally, cordless vacuum cleaners are said to be safer than corded vacuums. In crowded areas, for instance, people can easily trip over the cord while it's plugged in. As we all know that electricity-powered gadgets come with lots of safety rules, buying a cordless vacuum for your home eliminates all the safety concerns.
A corded vacuum is also less invasive compared to the corded one, and this means you can move it around without much disruption.
As a homeowner, you should definitely consider a cordless robot vacuum that can be put to several uses. The Shark IQ R101AE has a self-empty base, Wi-Fi, and advanced home mapping features is praised for it's ability to clean up messes, big and small, without you needing to lift a finger. It even goes back to the dock all by itself to empty and charge.
2. Dimmers
Today, more and more homeowners are embracing the use of dimmer switches in their homes. Nowadays, the past simple dimmers have been overtaken by more innovative ones namely scene dimmers.
Scene dimmers have several advantages in your home. They offer energy-efficient lightning, design flexibility, and convenience among other advantages.
Equally important, dimmers allow you to automate lighting in your home. Fortunately, you can base your light settings on the time of the day, week and/or other factors.
Also, when you are using the normal lighting options, you can only put lights on or off. This is unlike dimmers which allow you to adjust room light according to your lighting needs.
The concept of dimming options makes your place more beautiful and attractive.
3. First Aid Kits
First aid kits are a must-have for every homeowner. They provide first aid and cure to light injuries that take place at home.  They help address injuries such as cuts, sprains, burns, and others.
While it's important to keep a first aid kit in the house, make sure that the occupants are trained on how to use it. It's of no use to have a product that you have no idea how to use. Teach the house occupants what each item in the first aid kit treats. Be sure that your kit contains all the necessary equipment such as gauze, medical tape, Band-Aids, rubbing alcohol, Hand sanitizer, Antibiotic cream, and others.
Although you can't keep your family away from injuries, you can protect with first aid kits.
4. A Lint Roller
Lint rollers are so essential in a home. The product helps in the removal of lint from clothes, upholstery, and linen.
Once exhausted, you can replace the roll with a refill which enables a 360 degrees rotation to remove the hiding lint majorly human hair.
This device is a must-have especially if you are keeping dogs and cats in your home. It removes the fur from linen, carets, etc. Even if you don't have pets living with you, your neighbor does. Simply put, lint rollers are a must.  They come in many sizes and are sourced online or from physical stores like Target.  
5. Curtains
Many people treat curtains as just a window of door covers, but they are actually helpful in completing the look and feel of your space. Curtains are important for keeping direct sunlight from getting into your house. They also offer privacy at home.
People use curtains to provide privacy within a home, even when the house is crowded.
Have you ever known that curtains are a means for energy conservation in your home? Yes, because they retain heat during cold months and keep away heat during warm seasons, and this brings heating bills down. In fact, you can engage an interior designer to help you with color choices before settling on a curtain.
They can charge your space with a romantic, chic and cozy feel. Remember that the feel of your home is dependent on the fabric, texture, and color of your curtains. You can also change the look of your house by decorating your window shutters.
6. Room Spray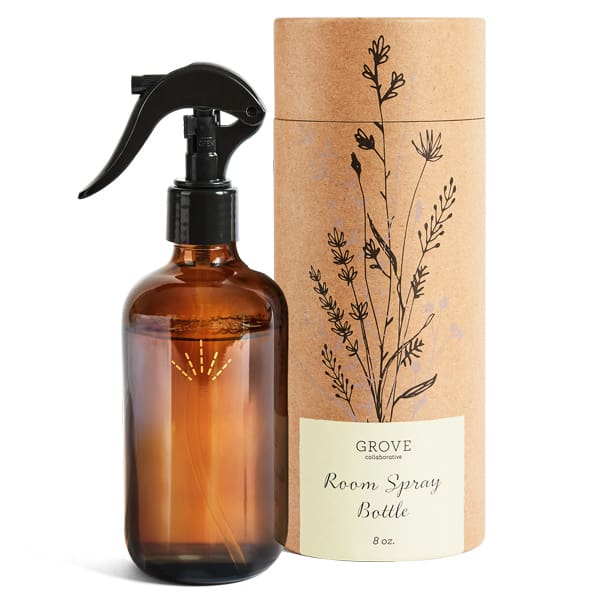 Room spray is the latest obsession and a "must-have" for homeowners who can't get enough of that just-laundered scent or just want to remove everyday household odors from the air.
Instead of filling your house with toxic chemicals and breathing in harmful substances, try something new! Grove Collaborative Room Spray Concentrate let's you refresh the air (and fabrics too!) with 100% natural essential oils. The concentrate is designed to be paired with Grove's Glass Room Spray Bottle so you can save money and waste less.
This room spray can also be used to refresh linens such as towels, soft furnishings, clothes, and carpets. You can also spray clothes while ironing them to add a pleasant scent.