One of our new contributors, Amanda Davis, wants to share her love for hot shoe brand Faryl Robin, with all out readers today!
I am going to share with you my current love affair with Farylrobin and how I can afford it! I was recently at my local Loehman's and was just perusing through the newest shoes…and there they were, the shoes that re-ignited my passion for footwear. They aren't the most flamboyant shoes ever; they are just simple navy leather flats with the Farylrobin gold buckle. What is so special about them, you ask? They are not only stylish with almost every outfit I own; they are awesomely comfortable as well! I wear them with jeans, skirts, leggings and often with my pajama pants when I am bringing the dog out; I LOVE THEM that much (imagine me holding my outstretched arms as far out as possible).
So being the rabid fan of these particular shoes that I am, I had to look into where I could get more of these delicious pieces of foot art! Obviously, I searched for their website where I found their Spring '09 collection, with some of the most beautiful shoes I think I have ever seen. My new favorite pair to pine for is the "Pop" in color Elephant, but they are a little out of my price range. Farylrobin does give the option to buy their latest and greatest from a link off their website, so if you are inline for some fashion forward footwear straight from the source, you are good to go! If you like trying your shoes on, the Farylrobin website offers a store finder, where you can locate the nearest retailer near you. Some well known retailers, such as Nordstrom, Lord and Taylor, and Macy's, carry this brand.
Faryl Robin "Pop" in Elephant
, retailing at $225
But never fear discount seekers; we can get Farylrobin shoes in other places too! If discounts on shoes are what you are looking for, I found great deals on this brand and others on Bizrate.com, Shoes.com, Amazon.com, 6pm.com, DSW.com and even Overstock.com
. I just picked myself up a cute pair of shoes that will be perfect for my man's birthday picnic in MD. They are delightful, rouched heels,mostly canvas with leather backing in a tart green that they call Loden. They will compliment my new sundress divinely, I am sure of it. The Faryl Robin Misha Loden
, which originally retailed for $124 (I know, I checked) came out to $42.98 with shipping on Overstock.com. This was also going for $62.10 on 6pm.com
. Deals, deals abound my friends!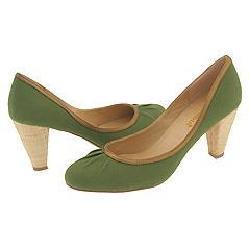 Faryl Robin Misha in Loden
, retailing at $124, bought for $42.98
Please do yourself a favor and check out the massive selection of Farylrobin shoes, from their newest and extremely fabulous to their discounted and just as fabulous! You will not be sorry. I promise.