My wardrobe is full of pieces that almost look great – just a little too tight here, not so flattering there… While losing a few would be ideal, what am I to do in the meantime? I don't have time to slim down before holiday parties, but that doesn't mean I don't want to look fab! Thankfully, there is a miracle cure available – not a pill that will shed all the extra weight overnight, but one that will help me look better instantly!
Of course, I'm referring to Slimpressions! Slimpressions carries ten pieces of top quality shapewear, formulated to address all your "reconfiguring" needs. There are six tops and four bottoms, each designed to smooth certain areas like your stomach, butt, thighs, or upper arms. Each piece is a comfortable spandex nylon blend, and machine washable, which is a huge relief. I just don't have time to hand wash my delicates, and I'm certainly not going to pay to dry clean them!
I was sent several pieces from the Slimpressions line; my breakdown of each fab piece is below.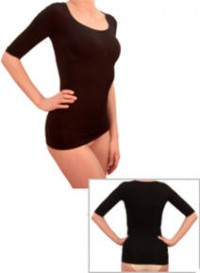 ~Gentle compression smoothes and shapes dreaded "arm flab."
~Soft cups for natural chest coverage.
~Ribbed midriff for flab-u-less all around support.
~Long torso for tucking and layering.
~Tagless comfort.
~Seamless torso that cuves where you need it to.
~Mesh armpits for added breathability.
I love the soft, breathable material. Adding a more "breathable" armpit is genius, as shape wear can get really hot and cause overheating, which kills the sexy factor your shape wear has created in the first place! The long torso is also an amazing idea, as I often find that tops like this aren't the right length and cause problems with a variation of outfits. And I'm excited about the inclusion of arm slimming!
If you're wearing a sleeveless top but want all the other perks, check out the Tanks A Lot – $62.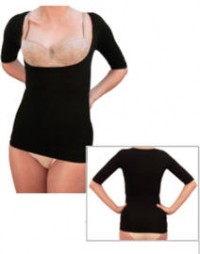 This piece is identical to the one above, except that it obviously scoops down below your cleavage. Another innovation that I LOVE – I really like being able to wear my own bra, regardless of what other undergarments I have on. Much of the shape wear I've tried in the past has flattened my boobs, which is a huge bummer. This piece totally solves that issue!
The same scoop neck style is available without sleeves as well – it's the Tanks A Little for $62.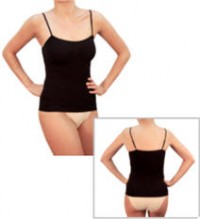 If you're rockin' a sleeveless piece, check out The Skinny Minis – $58. It has the same tucking and contouring perks as the rest of the collection, but features super comfy spaghetti straps. I love this piece as a regular black cami under a sweet sweater; since the top doesn't look any different than ordinary tops, no one knows about your secret slimming!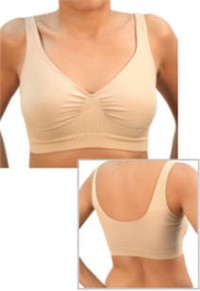 ~No wires, hooks, seams, or padding.
~Lifts and separates, and oh, so comfortable!
~Great for all figures.
~Made of 5% Spandex, 95% Nylon.
~Plenty of smoothing comfort but light weight to wear comfortably under clothes.
~Easy care… machine wash cold with like colors in gentle cycle, tumble dry on low heat.
No wires or hooks – what a dream come true! I love bras like the Comfy Bralette for casual days, or ones where I'm hanging around the house. I don't like being completely bra-less, so this is a perfect solution that provides support AND comfort. Every girl's dream, right?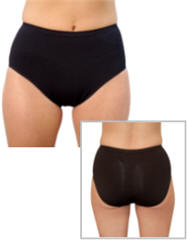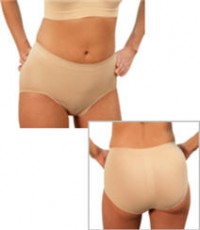 Moderate Control Brief for Shaping Tummy, Hips, and Rear – $33
Seamless Full Cut Panty with Light Compression – $24
These are two of the lower coverage bottoms from the Slimpressions line. Both are smoothing and comfortable with enough control to make pants and long tops more flattering. Whether you're looking for light or moderate coverage, these pieces are perfect. And they feature non-binding, non-rolling waistbands.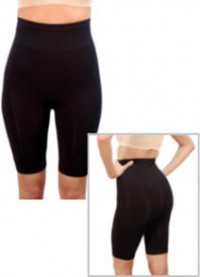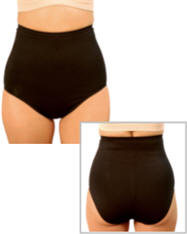 Seamless Long Leg Shaper – $45
Hi-Waist Control Panty for Extra Tummy and Waist Shaping – $39
These are the second two bottoms from the Slimpressions collection; as you can see, one goes down on the leg while the other goes higher up on the torso. If you want a lot of coverage and control, pair these with your choice of Slimpressions tops!
I've really enjoyed incorporating Slimpressions into my wardrobe. My clothes look better and I feel more confident. The Full Cut Panties are my favorite, as they're so comfortable that I don't feel like I'm wearing shape wear, but notice a difference in how my clothes fit. The material is breathable and the pieces are well proportioned, so I don't suffer from rolling, shifting, or tight straps. I know that I'll look fab in all my party gear, and so will you! Slimpressions stock sizes Small – 4x, so most everyone is covered. So what are you waiting for? It's time to Reconfigure Your Figure!
To stay updated on Slimpressions news and discounts, you can follow them on Twitter or fan them on Facebook.