The ever gorgeous and super talented Rihanna was recently spotted in Balmain Studded Crystal Sandals and oh my goodness, are they gorgeous!
The sandals feature crisscrossing straps embellished with crystals and studs, double ankle straps embellished with crystals and studs, small loop for big toe, round toe, solid upper with zip closure, leather innersole and sole, suede lining, and a 110 mm tapered covered heel.
These hot statement making shoes were pretty much the only shoe worn on the Balmain Spring 2009 runway.
They were also seen on Molly Sims and at the 'He's Just Not That Into You' premiere, on the feet of Jennifer Connelly. These beauties can be yours for a mere $1,961.00 USD. Yikes! In spite of the shocking pricetag, these sandals have quickly become the must-have shoe of the season.
So naturally, I went on a hunt to find some knock-offs!!!
Well you can always count on Steve to make a great knock-off of whatever is the "IT" shoe of the moment. Behold the Steve Madden BRIGGHT…
Don't expect to get your hands on them anytime soon… They won't ship until 7/21/2009!! And they'll set you back $89.95. They look more like the Balmain Shoes though…
I found a similar pair on Aldo, but they aren't quite as fancy… The ALDO Smeal costs $125.00
In my search for the perfect replacement, I also found Bakers "Derek" for $79.95
Again, those are pretty, but I don't like them nearly as much as the Steve Madden ones…
Jeffery Campbell makes a similar pair, but not so similar that I'd call them a knock-off… Jeffrey Campbell Mel's are an exclusive, limited-edition style that features skinny vamp straps and a thick ankle cuff encrusted with silver rhinestones and lots of studs for a look that's distinctly punk-meets-princess. Heighten all the texture talk with a base of glossy patent leather, covering the zip-back heel cup, cylindrical heel, and comfy platform. An open toe lets your toes breathe.
They are smoking hot all on their own, but with another unappealing price tag. ($170) It seems though my empty wallet is always standing in between me and a hot pair of shoes…
So I will continue on my hunt for something comparable and slightly more affordable… Studs and chains on shoes are going to be a big trend this Summer. Plain jane ballet flats are out and statement making shoes have made their way onto the fashion scene. If they are funky, weird, artistic, or just plain over-the-top, buy them!
Just in case you're loving Rihanna's whole outfit:
Jacket: Balmain's Leather Military Jacket
Jeans: Siwy Hannah Cropped distressed jeans in Obsidian or Citizens of Humanity Avedon Skinny Jeans
(currently sold out in black)
Update:
Okay, so I found more knock-offs!!
The uncanny Balmain replicas that surprisingly aren't being taken off the market for copyright infringement are the Zara Balmain. If you saw these walking down the street, you probably wouldn't even tell the difference. They are hard to get a hold of though! The style number is 1369201040 and they cost $169. If you want them, you should probably visit your nearest Zara Store or call and ask if they have them in your size.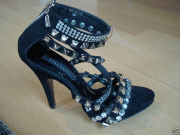 Only other option is getting them on eBay.
There is one more killer option if your heart is set on having these awesome shoes (they would be great Prom shoes or Wedding shoes too!). The BEBE Marianna Platform Sandal retails for $170 and comes in black and gold. Unfortunately, they are all sold out on their website.
But again, you can get them on eBay and there is quite a selection to choose from at the moment!