Holiday Fashion Police: What NOT to Wear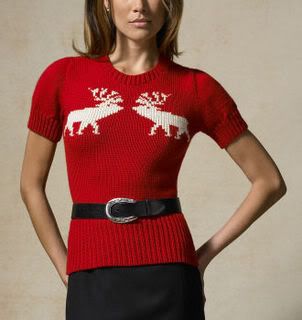 Hi fellow readers of The Fashionable Housewife! I presume that most of you are busy preparing for the holidays. And because preparations can get crazy, we tend to forget things. Sometimes we forget to eat; sometimes, we forget what our outfits look like. There are plenty of articles that tell you what to wear, but I'm here to tell you about the opposite!
Do not wear last year's outfit, especially if it's a print. Keep in mind that the holiday season is a time for photo opportunities with family and friends, so clothing repetition is a crime.  We've all got basics in the closet, so jazz up those basics with a scarf, necklace, gloves, or hair accessories like a hat or beret. (By the way, hats are in for Winter '11). Printed outfits are difficult to forget, so if you're dead-set on wearing last year's outfit, augment it with a blazer, cardigan, belt, scarf, etc. – something that covers the print.
No matter how pretty it is, avoid a summer dress. I know this maxim sounds ridiculous, but I have been to enough parties where a woman is quietly shivering while discreetly warming her hands on a cup of mulled wine because she was too tempted by the gorgeous drape of silk in her deep red summer dress. Sure, the color was Christmas-y and the drape was beautiful, but she couldn't have a good time because she was too focused on how cold she was. Don't be that woman. After all, it's a party and parties are for having fun!
Inconsistent accessories. Fashion specialists use the "rule of three" when accessorizing. Choose any three accessories like a belt, dangling earrings, and a bracelet and you'll be fine. When you want to use more than three, perhaps a hat or a scarf, make sure to do it tastefully. Boldly printed outfits need simple accessories. Do not go overboard or else you'll end up looking like a human Christmas tree.
Do not wear what you cannot afford. Many women have label lust. Also, many women can't afford their label lust. Trying on that designer dress is thrilling, especially you when see how it highlights your assets. But blowing your holiday cash on one dress means less money to buy several Christmas gifts for the people you love. That, or adding another hole to your credit card. Don't do this to yourself. A good department store or a mid-end retail outlet carries fabulous outfits for a fraction of the cost of a designer dress. Purchasing from them leaves you looking stunning without burning through your hard-earned savings. If you're the adventurous type, you might also want to check thrift stores. Who knows what kind of gem you'll find?
Author: Renee Bradford