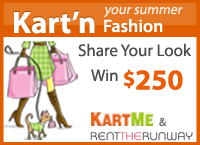 The Fashionable Gal has teamed up with KartMe
to give one lucky gal a $250 to Rent the Runway!
Rent the Runway, which launched in November 2009, is the hottest new way to rent designer dresses and accessories. Since rentals start at only $50, $250 is enough for a whole summer of style! Since their launch, the site has gained over 400,000 members and garnered attention from the Today Show, New york Times, US Weekly, and more. Rent the Runway gives you the opportunity to rent items that most of us can't afford to buy, from designers like Christian Siriano, Badgley Mishka, Nicole Miller, Diane von Furstenberg, Vena Cava, and many more! Similar to sample sale sites, it's members only – but through this special promotion, we're also giving you the opportunity to jump the line and get straight in (click here for more info).