If you are a Cars fan, then you will know that Cars 2 is set to open in theaters on June 24th. Well, in time for Father's Day, for those dads who are also Cars fans, there is a gift bundle available now at Sears and Kmart. It is the ultimate Cars fan gift idea that is sure to provide summer fun for kids and parents. It will be a wonderful way to keep kids entertained on any summer road trips you are planning or maybe even a Father's Day gift.
The gift bundle includes the following items and were available in Sears and Kmart stores this past Sunday, June 5th, for just $99.99 (in-store only):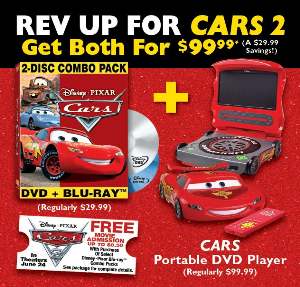 * Cars 2 Portable DVD Player with 7″ widescreen LCD (including headphones, car/wall adapter, rechargeable battery and remote control)
* Cars 1 Blu-ray/DVD Combo-Pack
* One free movie ticket to see Cars 2 in theaters (ticket comes inside of the Blu-ray/DVD pack)
For additional details, visit the Sears and Kmart blog at https://www.mysears.com/mysears_blog/Cars-2:-A-Deal-Worthy-of-a-Victory-Lap or https://www.mykmart.com /mykmart_blog/Cars-2:-A-Deal-Worthy-of-a-Victory-Lap—4256.
I know our children are excited and looking forward to seeing this new Disney movie and would love this bundle pack!