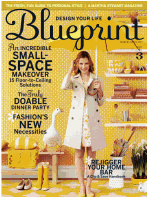 While I was picking up a quick dinner tonight at our local grocery store, I saw the magazine Blueprint.
I just glanced at it and thought since Spring is here, some of you are probably doing some spring cleaning.
This fabulous magazine has great ideas on organization and fashion and in this issue they have a great story on making small apartments seem roomier. Just what I needed!
Check It Out Online Too >>