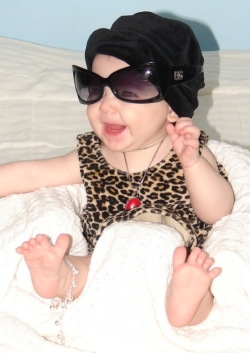 Sorry for posting another baby related item, but I couldn't help it! I'm a mom now!!!
The Jingle Bells Anklet from Baby Emi Jewelry is a a Cambodian tradition.
I first saw this beautiful anklet on The View and then on the Celebrity Baby Blog. I thought it was unique and very stylish for a little baby! I also thought it was great that there was actually a store for baby jewelry.
"For the modern mama, the unique Jingle Bells Anklet is a fashionable and functional must have item for the active crawler and toddler. And a favorite celebrity accessory for Maddox, adopted son of Angelina Jolie! "
Gwen Stefani, Tori Spelling, Marcia Cross from Desperate Housewives, Jennifer Garner, Reese Witherspoon, Denise Richards, Faith Hill, Kelly Ripa, Celine Dion, and many more hip mom celebrities have this cute anklet for their tots.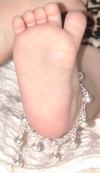 You can see in the logo for our new blog that The Fashionable Bambino is wearing this ultra chic anklet! I love the little jingle it makes while I'm carrying her around in the sling. She loves it and it looks so cute on her. Everyone asks me where I got it and how they can get one.
They can be purchased online here >>>.
They cost $40 and come in 5 sizes. The anklet is handcrafted with .925 sterling silver and is also available as a set for $75.
I think $40 is a little steep for a baby anklet, but it's adjustable so they will be able to use it for years and it's well made to stand up to years of use. So I think it's a good investment. Plus, you get to say that your favorite celebrity has the same one!
Exclusive for Fashionable Housewife readers: Coupon Code TFH10 for 10% off total order
www.babyemijewelry.com